All products made in the USA.
Features
Literature or brochure holder (option on pedestal base only)
Logo engraving in base (option)
Engraved message in acrylic (option)
3/4" oak veneer
Locked money drawer
Removable box floor
Beveled edge looks like glass
Thick 3/8" acrylic box with green tint
Lighted acrylic (option)

Benefits
The tastefully luxurious style attracts visitor's attention
Elegant look completes the professional theme of the space
Allows for salting the box to attract donations
Secured from theft
Stays in place - no screws to tamper with
Conveys your message and reason for assistance
Continues to capitalize on your pride theme and performance
Attracts visitors to donation box
Draws attendees from across the room
Donation and collection boxes, attractively designed can help your fund raising efforts. Our quality fabrication and eye-appealing materials ensure your donation box will look good and add to the decorum of your facility.

For your club, church or any organization we can produce effective donation boxes that get results.

Also known as: donation boxes, contribution boxes, counter top boxes, money boxes, suggestion boxes, ballot boxes, acrylic boxes and custom donation box.
View Our Gallery of Wooden Pedestal Donation Boxes
Wood Pedestal Style Donation Boxes Gallery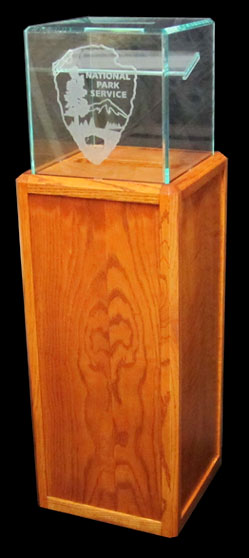 PEDESTAL BASE Unit
(Item Number PW-42)
Base: 13.75" x 13.75" x 31" high 3/4" thick oak veneer
Money drawer 9.75" x 10.75" x 4" deep
Acrylic Box: 11.75" x 11.75" x 11.75" high
Acrylic light green tint 3/8" thick
SHIPPING: FOB: PALM BAY, FL
SHIPPING: Call (321) 984-5177 or E-Mail for Quote. Most donation boxes are considered Oversize by shipping companies.
QUANTITY ORDERING: Please note quantity pricing is for multiples of the same style, they do not have to be shipped to the same destination.
WEIGHT: PEDESTAL: 48 POUNDS
Options
Engraved acrylic cash box. The acrylic can have your logo, theme or a thank you all etched into the front or rear panel. The side panels can also carry a message.
Engraved logo or wording on base. You can have your full color logo engraved on the base. It is normally prepared by adding a colored acrylic insert into an engraved pocket; if there is too much detail we can add a vinyl decal.
Literature Holder - Permanently secured to either right or left side this pocket will accommodate up to 3/4" of literature, brochures or envelopes
Front loading frame (clear anodize) Available in 8.5" x 11". Each frame includes an anti-glare protective sheet cover. Just open the 4 sides change the poster and snap shut. Excellent for tailoring the donation box to a current event or for announcing a fund raiser.
Double Locks Keyed Differently - Locks keyed differently are available for security. This option requires keys held by two people to open the cash box.
Casters -Twin -wheel caster with hood 1 -9/16 nylon wheels. This option allows you to easily move the donation box after the event. Braking casters are also available to avoid unintentional movement.
Lighted Acrylic Donation Box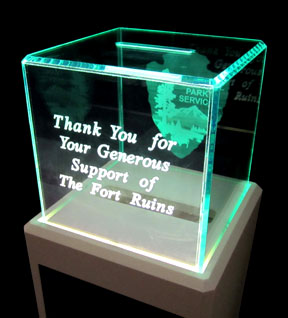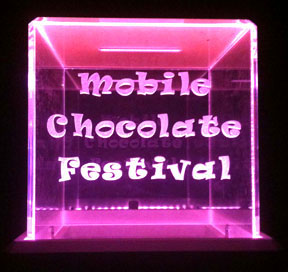 NOTE: Lighted with pink lights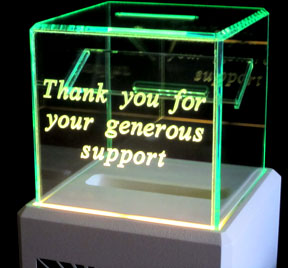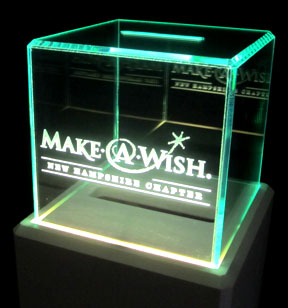 Options
LED light Kit - a concealed set of 18 led lights illuminate the edge of the acrylic base. The soft light naturally pipes through the acrylic to fully illuminate the box in a radiant glow. This option is perfect to attract donors from across the room.


Effective in both natural and dimly lighted rooms; this option finds the edge of engraved logos or wording to dramatically enhance the appearance and or message. Typically, alkaline batteries will provide more than 21 hours of illumination.

The kit must be installed at Surfix and includes: 18 LED lamps, in line toggle switch and a battery clip for 8 AA batteries (batteries not included). The light kit works with 8 standard or rechargeable AA batteries.