SURFIX manufactures a variety of acrylic, floor standing pedestal collection boxes and donation boxes. We also have in-stock, ready to ship, pedestal donation boxes. Use for them for suggestion boxes, lead & comment boxes and donation collection boxes.
Orders Are Shipped in 24-48 Hours!
All products made in the USA.
Features
Literature or brochure holder (option on pedestal base only)
Heavy 1 inch thick PVC base
Locked money drawer
Removable acrylic box floor
Beveled edge looks like glass
Thick 3/8 inch acrylic box with green tint

Benefits
The tastefully luxurious style attracts visitor's attention
Elegant look completes the professional theme of the space
Allows for salting the box to attract donations
Secured from theft
Stays in place - no screws to tamper with
Conveys your message and reason for assistance
Continues to capitalize on your pride theme and performance
Attracts visitors to donation box
Donation and collection boxes, attractively designed can help your fund raising efforts. Our quality fabrication and eye-appealing materials ensure your donation box will look good and add to the decorum of your facility.
Options
Literature Holder - Permanently secured to either right or left side this pocket will accommodate up to 3/4 inch of literature, brochures or envelopes
Front loading frame (clear anodize) Available in 8.5" x 11" and 11" x 17". Each frame includes an anti-glare protective sheet cover. Just open the 4 sides change the poster and snap shut. Excellent for tailoring the donation box to a current event or for announcing a fund raiser.
Double Locks Keyed Differently - Locks keyed differently are available for security. This option requires keys held by two people to open the cash box.
Casters -Twin -wheel caster with hood 1 -9/16 nylon wheels. This option allows you to easily move the donation box after the event. Braking casters are also available to avoid unintentional movement.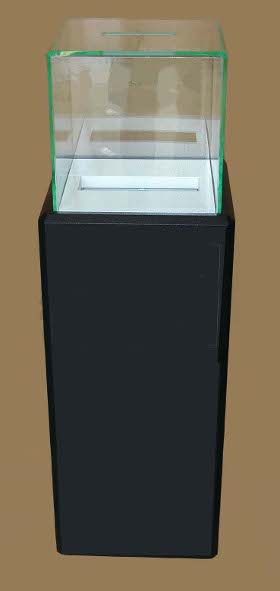 PEDESTAL BASE Unit
(Item Number PD-42AR)
Base: 13.75" x 13.75" x 31" high 1" thick PVC
Money drawer 9.75" x 10.75" x 4" deep
Acrylic Box: 11.75" x 11.75" x 11.75" high
Acrylic light green tint 3/8 onch thick
SHIPPING: FOB: PALM BAY, FL
SHIPPING: Call (321) 984-5177 or E-Mail for Quote. Most donation boxes are considered Oversize by shipping companies.
QUANITY ORDERING: Please note quantity pricing is for multiples of the same style, they do not have to be shipped to the same destination.
WEIGHT: PEDESTAL: 53 POUNDS