All products made in the USA
Competitive Wood Donation Boxes
The beautifully finished oak competitive donation box allows visitors to easily see and compare the donations of visitors from each state and other locations in their labeled cash chamber.

The 60 slots marked by location provides a little competitive fun when guests "out do other guests ". At the end of the day the floor can drop down into a cash retention bin for later removal.

All slot labels are under the acrylic top to eliminate tampering or removal. Funds are only accessible through the flush locked rear door.

The base is made from American Red Oak Veneer and solid oak. Hand made using all USA materials and construction.

The acrylic top is made from thick 3/8" light green tinted acrylic; beveled edges are polished to a glass-like finish. Each cash chamber is made of ¼ inch clear acrylic in and egg-crate interlocking framework. The chambers are suspended above an oak drop-down floor. Baffles may be installed under each of the slots to prevent fishing of monies through the slot.

An additional second rear lock may be installed for added security requiring two individuals to remove cash. The flush lock allows the positioning of the donation box against the wall.
Front loading snap frames are available to allow for changing messages to announce events, seasons or use of funds
A logo or inscription may be engraved in the acrylic top or inlayed on the wood base
Casters can be added to make it easy to best position the donation box in visitor traffic or remove it to storage area.
Several stain finishes are available:
Donation and collection boxes, attractively designed can help your fund raising efforts. Our quality fabrication and eye-appealing materials ensure your donation box will look good and add to the decorum of your facility.
For your club, church or any organization we can produce effective donation boxes that get results.
Also known as: donation boxes, contribution boxes, counter top boxes, money boxes, suggestion boxes, ballot boxes, acrylic boxes and custom donation box.
View Our Gallery of
Competitive Wood Donation Boxes
Competitive Wood Donation Boxes Gallery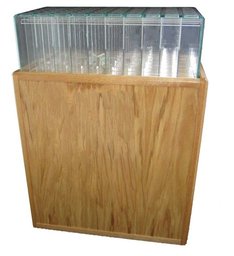 BASE Unit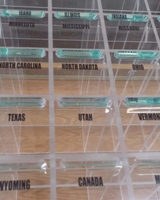 TOP VIEW of slots
COMPETIVE WOOD DONATION BOX BASE Unit
(Item Number PW-60)
Base: 32.25" x 20.50" x 32" high 3/4" thick oak veneer
Acrylic Top: 30.25" x 18.50" x 10.75" high
Acrylic light green tint 3/8" thick
SHIPPING: FOB: PALM BAY, FL
SHIPPING: Call (321) 984-5177 or E-Mail for Quote. Most donation boxes are considered Oversize by shipping companies.
QUANTITY ORDERING: Please note quantity pricing is for multiples of the same style, they do not have to be shipped to the same destination.
WEIGHT: PEDESTAL: 160 POUNDS